Last updated: August 20, 2020 at 22:21 pm
Cherry Blossom Tea: flavor highlights
It's hard not to like cherry, with its fruity, cheerful and lovely sweet-sour notes. With the emergence of cherry tea, this combination makes its way into your daily brew. There are no fixed typologies or rules as far as loose leaf cherry flavored teas are concerned. Among the diverse varieties of cherry tea on the market today are traditional Japanese 'sakura' teas, green teas laced with rose petals and cherry blossoms, and dessert black teas made with the addition of cherry flavorings and delightful assortments of cherry blossoms, rosehips, hibiscus, dried fruits.
---
A little history
Cherry tea is closely associated with Japanese green tea drinking traditions. 'Sakurayu', or Japanese cherry blossom tea, has for centuries been a much awaited spring-time special. Prepared with freshly harvested cherry blossoms (or 'sakura') and loose leaf Japanese black tea, this beverage is the highlight of the annual 'hanami' (a Japanese ritual of welcoming the spring). It is also served at weddings and other occasions marking new beginnings.
What is cherry blossom tea good for?
In Japan, spring is often welcomed with a cup of Sakura or cherry blossom tea. Turns out, these pretty pink blossoms can also keep you in the pink of health. Cherry blossom tea has plenty of antioxidants, which can prevent cell damage by removing free radicals from the system. Cherry blossoms are also good for the skin, providing essential fatty acids to keep it supple, reducing wrinkles, and removing toxins with their anti-inflammatory properties. Cherry blossom tea also promotes weight loss, and keeps the heart and kidneys in good shape. Its anti-inflammatory properties help reduce pain and inflammation associated with premenstrual syndrome.
Tasting notes and reviews
Best cherry teas present diverse notes and flavors, depending on their composition of ingredients. Japanese cherry blossom teas combine the crisp, strong notes of Japanese black tea with the sweet floral edge of cherry blossoms. The result is a "fragrant", "delightful mix of strong and subtle", which is also a "great pick-me-up" for those who prefer full-bodied, high-caffeine beverages. Some cherry flavored black teas also use almond accents for a "smooth and luscious" sip. These flavored blends are usually preferred by tea drinkers who like strong, fruity aromas. Caffeine-free herbal blends that feature cherry along with other fruits and flower petals, are typically found to be "sweet and tangy". They make good dessert teas, though some might find them to be "more like candy than tea". Green teas with cherry blossoms or flavorings, on the other hand, are "nice and light", "without trying to be overly fruity".
Tea tips 
Since cherry teas come in so many varieties, there are different steeping times and water temperatures for each of them. Japanese cherry blossom black teas are best steeped for 2-3 minutes in fresh water at 190-210 degrees, depending on the brew strength you prefer. They can be consumed with or without milk.
Herbal cherry blends generally make good caffeine-free drinks in both hot and iced versions and pair best with honey. Try innovative blends featuring chocolate, vanilla or rose petals for that 'dessert-like' feel.
Cherry and green tea is a winning combo for iced tea.
Did you know that Wild Cherry Bark makes for effective natural cough syrup? See our recommended Wild Cherry Bark products below.
For more tip on what to add to your tea, read our article

here>>
Wild Cherry Bark
Wild Cherry Bark or Prunus serotina also known as black cherry, rum cherry, Virginian prune, choke cherry and black choke is most commonly found in North America.
Organic Wild Cherry Bark Tea
Wild cherry bark is classified as an herb, and it contains a substance that traditional Chinese Medicine physicians like to use. This stunning herbal tea has also been used by Native Americans to treat a host of physical issues.
Garden Grove Green Tea (Jasmine / Cherry)
Our signature cherry green tea blend is full of easygoing flavor. Find your zen with the tart cherries, the calming jasmine, and the sweet smell of vanilla, all gently blended with a Chinese green tea full of healing antioxidants and delicious flavor. A wonderful cherry tea blend great hot or on ice.
Sakura Tea
Experience the fragrance and flavors of Japan's annual cherry blossom season with our Sakura white tea blend. With delicate floral and fruity notes, this Sakura blossom tea exudes a sweet cherry aroma in each cup.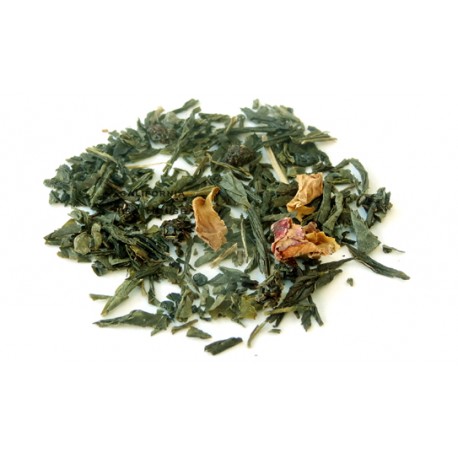 Chunky Cherry
Chunky Cherry green tea takes the smooth, healthy taste of Japanese Green Sencha tea and throws in some hearty cherry pieces and a handful of rose petals. This is Will's all time favorite blended loose leaf green tea. He says, "If you're going to drink healthy, it might as well taste like this!"
Cherry Blossom & Japanese Black Tea Loose Leaf
A sweet blend of black tea and fragrant cherry blossoms. This blend features a robust Japanese black tea accented with the sweet floral notes of cherry blossoms for a sophisticated tea experience. This blend combines crisp leaves of Japanese black tea with fragrant sakura petals. The result is a tea with a deep, earthy base, accented with sweet floral notes to capture your senses from the first sip to the last. Elegant and inviting, this Japanese tea blend is a luxurious delight to even the most seasoned tea drinkers.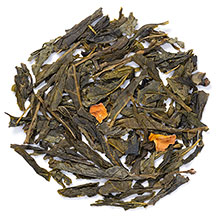 Cherry Green
Green tea, natural wild cherry flavor, rose petals and dried cherries. This premium tea is a treat for any Chekhov fans musing in their cherry orchard. Fresh green tea flavored with ripe summer cherries. Candied cherry aroma, juicy texture and slightly dry finish. Great hot or iced.