Last updated: August 23, 2020 at 18:18 pm
Mint tea blends: flavor highlights
There's nothing like a cup (or tall glass) of mint tea to freshen you up every day. Loose leaf mint teas are crafted using a wide variety of tea bases (black, white, and most commonly, green), and accented with a range of herbs and spices (chamomile, lemongrass, and orange peel, all the way to cucumber, lavender and chocolate). What they all have in common is the refreshing, sweet, uplifting notes of peppermint, or spearmint, or both.
How does peppermint differ from spearmint?
Both peppermint and spearmint are used to prepare mint teas. But there are some key differences in their aroma and flavor. Spearmint, with a long history of use in medicinal green teas, is mild, sweet and calming in nature. This makes it a key ingredient in a number of teas designed for sleep and relaxation. Peppermint contains menthol, which is responsible for its 'livelier' scent and taste, as well as its cooling effect. Though there are no fixed rules that govern mint tea recipes, peppermint is usually found in black tea blends with spicy add-ons such as ginger. Spearmint pairs well with green teas and oolongs.
Moroccan mint tea
Moroccan mint tea blends traditionally feature spearmint and Chinese Gunpowder green tea >>. Whether to consume it sweetened is up to you, but the original recipe assumes a healthy dose of sugar and it is nothing short of legendary.
Mint herbal tea: tasting notes in reviews
Tea drinkers generally prefer mint teas for their "subtle", "palate cleansing" nature, and their ability to "soothe and refresh at the same time". Classic Moroccan mint teas are spearmint based, though a number of modern variants include peppermint as well. They tend to be "sweet" and "easy to drink", "quite vegetal", "mildly minty", with the tendency to "get bitter when oversteeped". A strong spearmint tea works as a "good afternoon pick-me-up"; the taste of spearmint "tends to linger" for extended periods of time. Peppermint teas are often prepared with white tea bases and spicy accents for a "festive, wintery" feel. They taste "great with a little milk and sugar", though neither is necessary.
Read on to find our top 10 recommended mint teas, including Moroccan Mint Tea and Peppermint Herbal Tea options.
Peppermint tea tips
Loose leaf mint and peppermint teas give you a lot of room to experiment with flavor pairings. Citrusy accents such as lemon or orange peel add a nice depth to your cup of mint tea. Most varieties of mint tea double up as refreshing iced drinks as well, especially with a slice of lemon added in. For more tea making tips, read our article on what to put in your tea for extra flavor.
Can you drink too much mint tea?
For all practical purposes, no. Even multiple cups of peppermint or spearmint tea will use only a handful of mint leaves. Having said that, it's important to bear a few things in mind before making mint tea an everyday fixture. Peppermint tea is not a great match for people with gastroesophageal reflux disease (GERD). That's because peppermint can make the esophagus muscles relax, potentially worsening any acid reflux you already have. Both peppermint tea and spearmint tea should be consumed in moderation during pregnancy, and you should check with your doctor about any potential drug interactions. Too much spearmint can have an adverse effect on the liver and kidneys, so talk to your doctor about how much you can safely drink if you have any existing liver or kidney conditions.
And we promised you a homemade fresh mint iced tea recipe.
Homemade Strawberry Mint Iced Tea 
This super easy to make cold brew iced tea is healthy and inexpensive. It's a great alternative to store bought sugary drinks. Cold brew method delivers perfectly smooth flavor with no bitterness whatsoever.
Ingredients
1 liter filtered water
2 tablespoons Dragonwell loose leaf green tea by Adagio Teas
½ lb fresh strawberries quartered
4 stems fresh mint or peppermint, leaves only
2 tablespoons honey (optional)
How to make
In a glass container, combine loose leaf tea and room temperature water and refrigerate overnight. Next day, filter tea leaves with a strainer. In a wide mouth glass water bottle or a pitcher, combine strawberries and mint leaves, add green tea brew and honey to taste. Leave to infuse for another 2-4 hours in room temperature. Serve over ice with a slice of lemon or cucumber. Enjoy!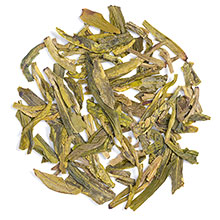 Dragonwell
Dragonwell (Lung Ching or Longjing in local parlance) is one of China's most famous green teas, originating from Hangzhou in Zhejiang province. This tea has a very distinctive shape: smooth and perfectly flattened along the inside vein of the leaf, the result of highly skilled shaping in a hot wok. This process, known as pan-firing or pan-frying, was perfected in..
Top 10 best Peppermint Teas to buy online
We feature only the best tea stores online and earn a commission from qualifying purchases: Affiliate Disclosure>>