Last updated: August 1, 2020 at 14:13 pm
Tea has enhanced human wellbeing for centuries. It proved to be a wonderful drink for any time of the day. If you are feeling down, a nice cup of tea will uplift you. If you are hyper and uneasy, it will calm you down. Tea is one the most popular natural home remedies for a variety of symptoms from colds and flu to anxiety and indigestion.
It seems only natural to pair tea with CBD for mind and body wellness.
CBD (cannabidiol) is a natural compound derived from the hemp plant. CBD is not psychoactive, meaning it would not get you high. Instead, it will help you truly relax and unwind after a long stressful day. Considering the many health benefits that come with CBD, a cup of CBD infused tea a day might also improve digestion, boost immunity, and benefit heart health. No wonder that tea enthusiasts around the world have accepted CBD teas as an integral part of their morning or evening routine.
CBD-Infused Teas Available on the Market
Whether you are a new CBD user or looking for new ways to add healthy cannabinoids to your tea, make sure to get your products from reliable and trusted sources. We found a few solid options for you.
Different Methods to Make CBD Tea
If you are interested in making your own CBD tea, rest assured it's a simple process. Use these techniques to achieve the most benefits.
How to Make Tea with CBD Oils or Tinctures
One of the most exciting things about preparing CBD teas is mixing different ingredients and flavors to find your ideal taste. There are quite a few varieties of tea to start with. Pairing your favorite tea with CBD oils or flavored CBD tinctures can make it even more delicious.
Here is what you need to prepare your daily dose of tea with CBD oil.
CBD oil or CBD tincture
Loose leaf tea or tea bag
Cream or whole milk
1 cup of water
Bring your kettle to boil and make tea using 1 tea bag or 1 tea spoon of tea leaves per 8oz of water. Add a dash of milk. CBD oil can't mix with water, but it blends with milk and other fatty substances. Add the prescribed amount of CBD oil and stir until it blends perfectly. Allow your tea to cool down, serve, and enjoy.
Full Spectrum Tincture
Unwind & relax while enjoying a better value: our full-spectrum CBD oil is made with the highest quality CBD and kosher-grade vegetable glycerin. Whether it's for the benefits or just to relax,  relief is just a few dropper squeezes away. Administer a few drops under the tongue, or use in your favorite foods and beverages without worrying about any kind of weird smell or aftertaste. A 30ml bottle of 1500 mg Full-Spectrum CBD tincture equals 50 mg in each 1 ml eye dropper.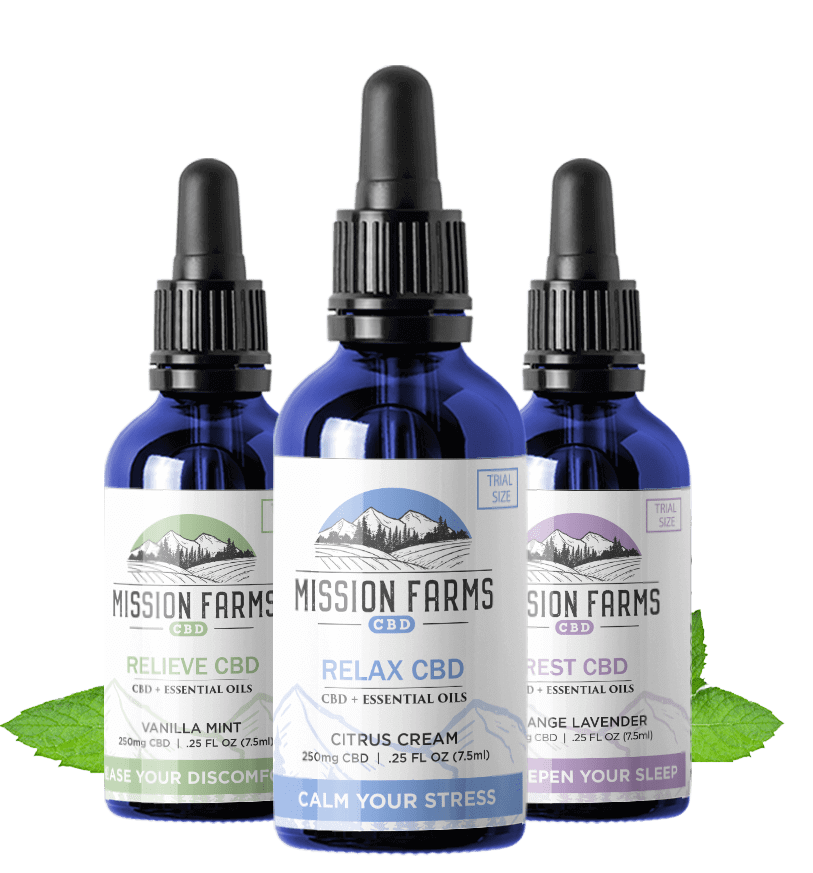 TRIAL-SIZE THREE PACK (RELAX CBD, REST CBD, RELIEVE CBD)
Save money by purchasing a three-pack bundle of our Trial Size CBD Oils. This CBD Oil Bundle includes three items: Relax CBD Oil (250mg), Relieve CBD Oil (250mg), Rest CBD Oil (250mg). It is a great starter kit if you are new to CBD.  Save $18 by buying the bundle versus getting each item separately. Use discount code 15PERCENT for 15% off
How to Make Tea with CBD Flower
To prepare a tea with CBD flower and make the most of it, the flower needs to be heated up quite a bit over a longer period of time. That is why the best way to use it in tea would be incorporating it into traditional Masala Chai recipe.
This spicy chai will warm you up and calm your mind. To make the tea, you will need the following ingredients:
5-6 grams of freshly ground CBD flower
8 slices ginger root, each about ¼ inch thick
8 black peppercorns
1 cinnamon stick or 1 teaspoon cinnamon powder
1 cardamom pod
Dash of clovers and/or nutmeg
Your favorite loose-leaf black tea or rooibos if you want to avoid caffeine
Whole milk or cream to taste
Honey or sugar
Add 4 cups of filtered water to a large saucepan and place on high heat.
Add ground CBD flower, sliced ginger, black peppercorns, cinnamon, cardamom and clovers or nutmeg and set to boil.
Once boiling, reduce to simmer and cook partially covered for 20 min
Add tea, fully cover and remove from heat. Allow the tea to steep for 5 minutes.
Strain, pour into cups, add cream and sugar to taste. Enjoy!
Choosing quality products is essential. Start with authentic Indian black tea.
CBD Flower
Hemp flower is our passion. We know the secret to cultivating magnificent flower. It's precision in planning and passion for our customers. From our slow-drying strategy, to our hand-trimming, to our 60 day cure, we have you in mind. Every step of our process is designed to ensure excellence in your finished hemp flower. You can relax when you buy online with us. Know that you are purchasing a flower product that has been cultivated by the practiced care of dedicated artisan growers. We take pride in everything that we do. We promise to deliver you the highest standards in the CBD flower industry.
best seller
Classic English Breakfast Black Tea
Our classic breakfast tea is a rich combination of strong, full-bodied and robust teas handpicked from the finest estates of Assam and goes perfectly with a dash of milk and sugar. English Breakfast is among the most popular tea blends in the world. Popularized by the Queen Victoria of England, it is traditionally paired with a hearty English breakfast. Assam is known..
Daily Darjeeling Black Tea from Himalayas
An enthralling cup of summer black tea from the fascinating region of Darjeeling. This is a light, second-flush black tea with crisp, berry-like nuances that shall captivate you from the first sip! The brownish-black leaves are short, tightly-rolled, and interspersed with some green flakes. The liquor is mellow and unimposing, with notes of date palm and fermented barley that are discernible but fade away quickly. Indulge in a brisk and flavourful cup of tea that has signature Darjeeling second-flush attributes of wood and dried fruit.
The chemical composition of CBD teas is complex and includes antioxidants, cannabinoids, vitamins, and nutrients. Therefore, drinking CBD tea has multiple benefits. Here are some of them.
We all are trying to find ways to calm our nerves, find inner peace, and relieve anxiety. Many of us find peace in taking some time for ourselves, reading a book, and enjoying a cup of tea. People from all over the world are adding CBD oil to tea to help alleviate their anxious feelings.
CBD oil can enhance mood through cannabis's interaction with the nervous system. The cannabinoid interacts with the body's receptors for serotonin (a neurotransmitter associated with happiness). Medical studies have shown that cannabis activates serotonin upon entering our nervous system.
Adding CBD to tea, combined with the ritual of drinking a hot beverage, could be an excellent way to reduce your anxiety and improve your mood.
Those affected by common sleep disorders usually suffer from irregular breathing, daytime fatigue, and mood swings. Drinking tea can help improve your sleeping routine. Some studies show that CBD alleviates symptoms like insomnia, anxiety, and chronic pain. Many people are using CBD oil or hemp tea to enjoy a more restful sleep
Adding CBD to tea, combined with the ritual of drinking a hot beverage, could be an excellent way to reduce your anxiety and improve your mood.
Alternative medicine experts increasingly recommend CBD as an effective treatment for all kinds of pain. How it works? This is what we know. The endocannabinoid system (ECS) in human body is not fully researched yet, but it is clear that plays an important role in regulating pain. Endocannabinoids are sensitized naturally and bind to cannabinoid receptors in the nervous system. CBD regulates pain by stimulating endocannabinoid system. Moreover, CBD has anti-inflammatory properties that help reduce swelling, provide relief for arthritis, and respond to autoimmune disorders.
Tea is the perfect remedy for nausea and upset stomach. Herbal teas with peppermint, ginger extract, and lemongrass are a quick fix for minor digestive issues. The combination of soothing herbs and CBD provides relief and calms your stomach. If you continue experiencing stomach pain, consult with your doctor to diagnose the root of the problem.
If you are looking for a solution to speed up your metabolism, lose weight, and balance your digestion, CBD tea might be the answer. Cannabis interacts with our endocannabinoid system (ECS), the base of receptors that regulate our biological processes, to improve our metabolism.